What is an eLearning module?
and the best ways to develop eLearning modules
What is an eLearning module?
An eLearning module is best described as an online textbook. Now the possibilities of offering information through these digital textbooks are much greater than just text and images. An eLearning module can contain interactive working methods, videos, animations, virtual reality, augmented reality and forms of gamification. Sometimes several eLearning modules together form an online course in which each module covers a different (part of a) subject.
Want to read more about this? Then check here to learn more about what an eLearning module is.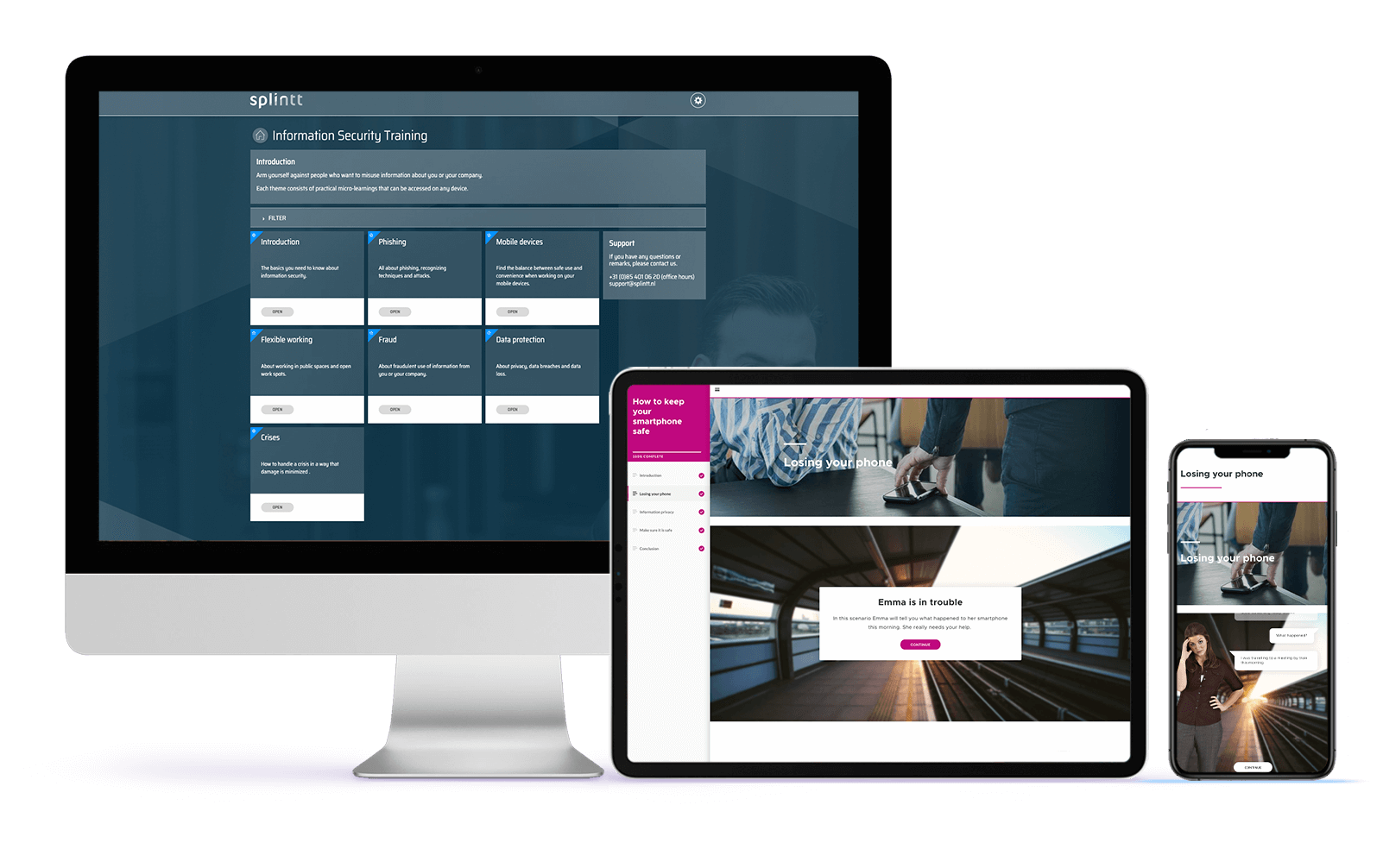 What topics can you cover with eLearning?
With eLearning modules you can transfer knowledge and skills, but it is also possible to create awareness or change behaviour. It is a rich medium through which you can convey information. In the case of a hospital or healthcare institution, eLearning can, for example, teach employees how to use an electronic patient file or make them aware of the importance of good hand hygiene. In a bank or an architecture firm, the topics might be different, but here too employees can gain skills and knowledge from their field or be made aware of certain essential behaviours or risks.
There are already many different generic eLearning modules available. There are countless modules available for every profession and every industry that can help employees learn and stay up-to-date on the latest developments in their field of work.
There are sometimes hundreds of different modules per subject area. Nursing staff in a hospital, for example, can follow modules about hygiene on the work floor, but also about how you can best cooperate with each other or about a new form of recording so that everything that happens to patients is registered as accurately as possible. Not to mention working with new drugs or equipment which of course happens regularly.
Different modules per subject
Partly because there is a lot of demand for different themes, we have set up the content libraries. This is our eLearning module library with topics such as:
The safe handling of information and ISO270001 implementation,

Working safely with chemical products,

Fighting industrial incidents,

Smartly finding and being found on professional platforms, such as LinkedIN,

Acting ethically and responsibly inside and outside the organization,

And much more!
The best ways to develop eLearning modules
There are several ways to develop eLearning modules. Of course you can do everything yourself, for example with eLearning authoring tools (links). But we don't always recommend this. There's more to developing eLearning modules than meets the eye, which is why many of our clients end up opting for custom eLearning or 50% custom eLearning. If you are not sure how to best deploy eLearning modules for your organization, please contact us. We would love to help you!
So… eLearning modules.
So a lot is possible and achievable with eLearning modules. Reason enough to try an eLearning module?
what can we help you with?
Are you looking for a solution to your situation?