eLearning tools
Develop your own trainings and courses for your participants with eLearning authoring tools
Using eLearning authoring tools
Since eLearning (courses, modules, tests, micro-learning, etc.) has gained in popularity in business, care and education, it is almost impossible to imagine your own organisation without it.
Now you can program eLearning variants yourself, but using authoring tools makes the eLearning development process a lot easier.
The biggest advantage of using authoring tools is the speed and ease with which you can develop training courses, modules, tests and courses for participants. For example, authoring tools have standard "building blocks" to work with and offer various functionalities that you can use to make your eLearning interactive. Most authoring tools deliver 'responsive' eLearning, allowing content and design to adapt to the device on which learning takes place. Some tools deliver scalable eLearnings, which means that the design remains the same but only appears larger or smaller.
Which authoring tool to use depends on your situation, the lesson material and your objectives. Read on to find out which tools are right for you!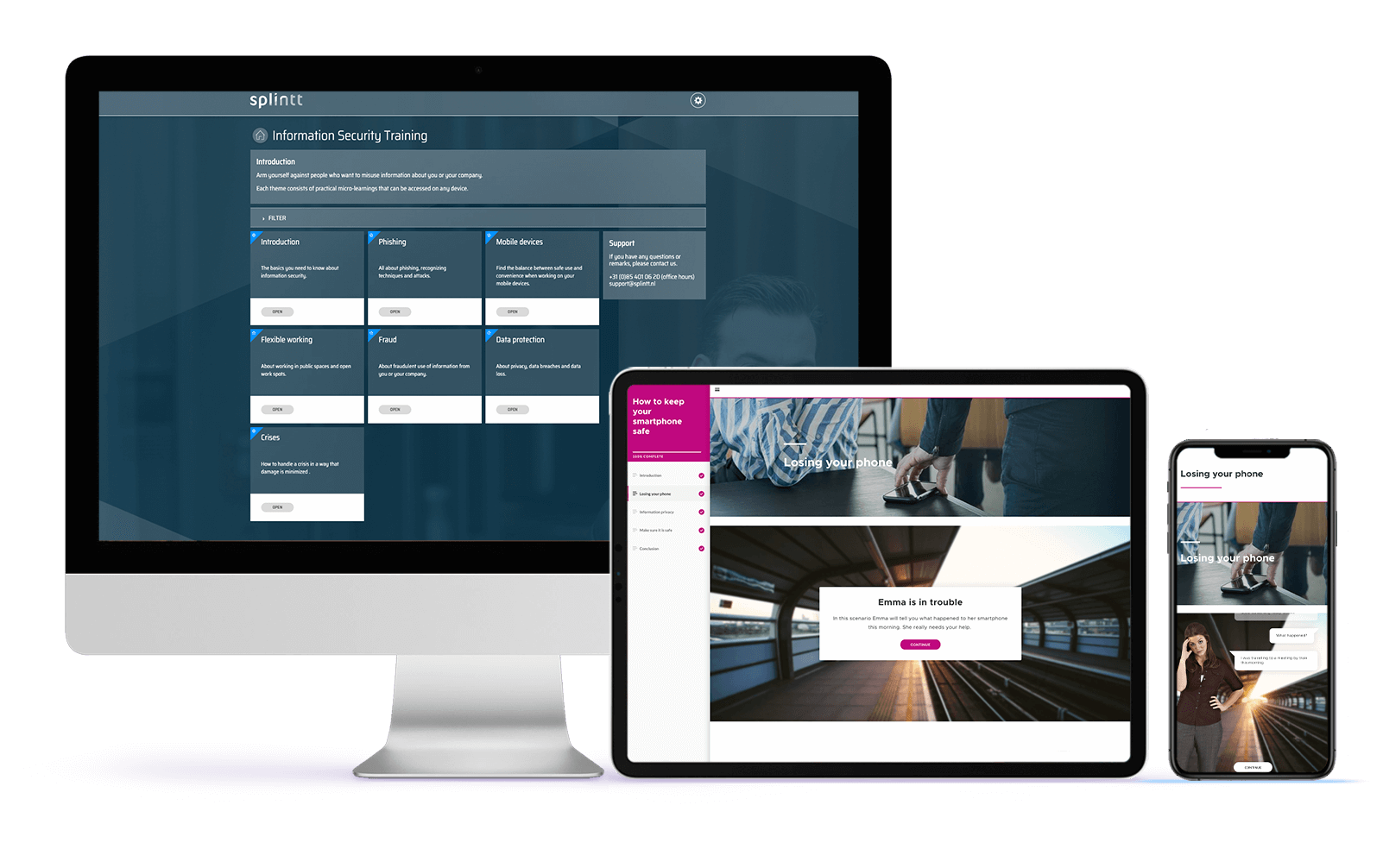 Choosing between the tools
Before making this choice for an authoring tool, it is wise to first draw up conditions. "What should the authoring tool be able to do?" is an essential question that is sometimes forgotten. So before you make a choice between the various tools available, it is useful to answer the following questions:

What should the eLearning look like?
Check whether you want to incorporate your organisation's design/house style in the eLearning. And wonder how and where the eLearning should be tracked: on desktop, tablet, smartphone. There are tools that allow you to develop however you want. In other tools you can change colors, but part of the design is already fixed. There is also a lot of difference in responsiveness.
Who is going to use the eLearning and for what purpose?
Who are the students who are going to go through the eLearning? What's the lesson material? How complex is the lesson material? What are forms of learning that you expect to use? And for what type of learning objectives? How fast do you want to be able to develop and go live? Each tool also has its own strengths in this area.
Who will develop the eLearnings?
Who will create, maintain and update the eLearnings? And how familiar are they with the development of eLearning or other learning materials? How much affinity do they have with software programs? There are tools that allow you to use more complex interactive eLearning and tools that offer fewer possibilities, but are easier to use.
How do I make the eLearning course available?
How can students find the created eLearning module? Is there an LMS (Learning Management System) available where the module can be placed? Or should the course be available on your organisation's intranet? Which technical publication do you need to read out the results? Most tools offer publication according to common standards.
How much can the eLearning tool cost?
Sometimes the software to experience eLearning is free (through a trial period or limited functionality) but in many cases you will need to purchase the authoring tool. More and more often, this is no longer a one-time fee, but a subscription form that allows you to receive automatic updates. Prices can differ so it is good to keep those in mind. So weigh up how much the authoring tool may cost and what functionality you want in return.
The 3 best working authoring tools for eLearning according to Splintt
There are several authoring tools available that you can use. Each authoring tool has its own pros and cons, which is why it is important to use the previously mentioned questions to determine which authoring tool best suits your needs. It is also useful to take a look at who the customers of an authoring tool are; some tools are better tailored to a specific industry and are therefore easier to use.
1. Articulate Rise
Articulate Rise is an eLearning tool that allows you to easily create eLearning courses within your web browser. What you see is what you get, applies here. You actually develop your eLearning right in the front-end. Every course created with Articulate Rise is optimized for responsive use.
Articulate Rise has 5 strong properties that here are neatly lined up. We like to add 2: the ease of reviewing and editing and the speed with which you can translate.
We think Rise is a very nice tool when you want to develop eLearning quickly, relatively inexpensively, with not too complex subject matter and a fairly straightforward storyboard. You can't make a software training so good with it and even if you want to offer alternative scenarios and paths, Rise is less suitable. It looks very nice in itself, but the full implementation of a house style is not possible.
So what's nice is the speed with which you develop and the freshness of the learning forms you can use. We have tested and developed a number of extras ourselves, so that we can still get a little more out of interaction when we need it.
2. Articulate Storyline
Articulate Storyline is the perfect tool for beginning users, but also powerful and diverse enough for more advanced users who want more possibilities. The authoring tool makes use of an intuitive interface (a combination of Microsoft Powerpoint and a timeline), which enables a nice result to be achieved quickly. Articulate Storyline is ideal for creating interactive eLearning courses that do not have to be responsive.
You can use standard templates, which can form a basis for your course. In terms of design, there is a lot of customizability, which allows you to implement your own corporate identity. There is quite a lot of functionality available. You can easily create more complex ramifications, so you can build scenarios that you can lead a participant through.
Unfortunately, maintaining courses takes quite a lot of time. A seemingly minor adjustment, can quickly run into the hours of work. Storyline only scales (larger and smaller) to the device used. As a result, content can suddenly look very strange when the device is too small. It is not responsive.
We think Storyline is a very nice authoring tool with which you can create really beautiful, rich eLearnings and especially suitable for desktop & tablet learning.
3. Lectora Publisher
Lectora Publisher is the authoring tool to make eLearning courses as comprehensive and interactive as possible. With this software you can easily develop eLearnings where you keep full control over layout, interactions and dialogue.
Thanks to variables and test questions you can create a very complete interactive learning experience for your student. Please note that Lectora Publisher is intended for the more experienced eLearning developer, which means that beginners with eLearning tools will need a lot more time to create their own courses with this tool.
We like to use Lectora when we can start completely 'blank', with a design that is fully developed for a specific purpose. With Lectora you have the most creative freedom. This is especially pleasant when more complex interactive eLearning courses have to be developed. With CSS and javascript, there is a lot to add. eLearnings are fully responsive.
Do you need help choosing an eLearning tool that suits your organization and wishes? Feel free to ask us for advice!
Are you looking for a solution to your situation?