H2K Online
industrial education and training
question and solution
H2K wanted a digital learning platform to complement education and training. H2K has joined hands with software developer Splintt to facilitate e-learning for industrial incident response. Splintt develops the digital framework for e-learning, H2K has created online learning programs for industrial education and training.
Using the platform, learners, both individually and as a team, can take online lessons, take case histories and take knowledge tests. The user-friendly online learning platform offers the possibility of providing standard and customised learning programmes digitally. The modules are available 24/7 and accessible on all devices.
Interested or want to try a guest account? Get in contact with H2K.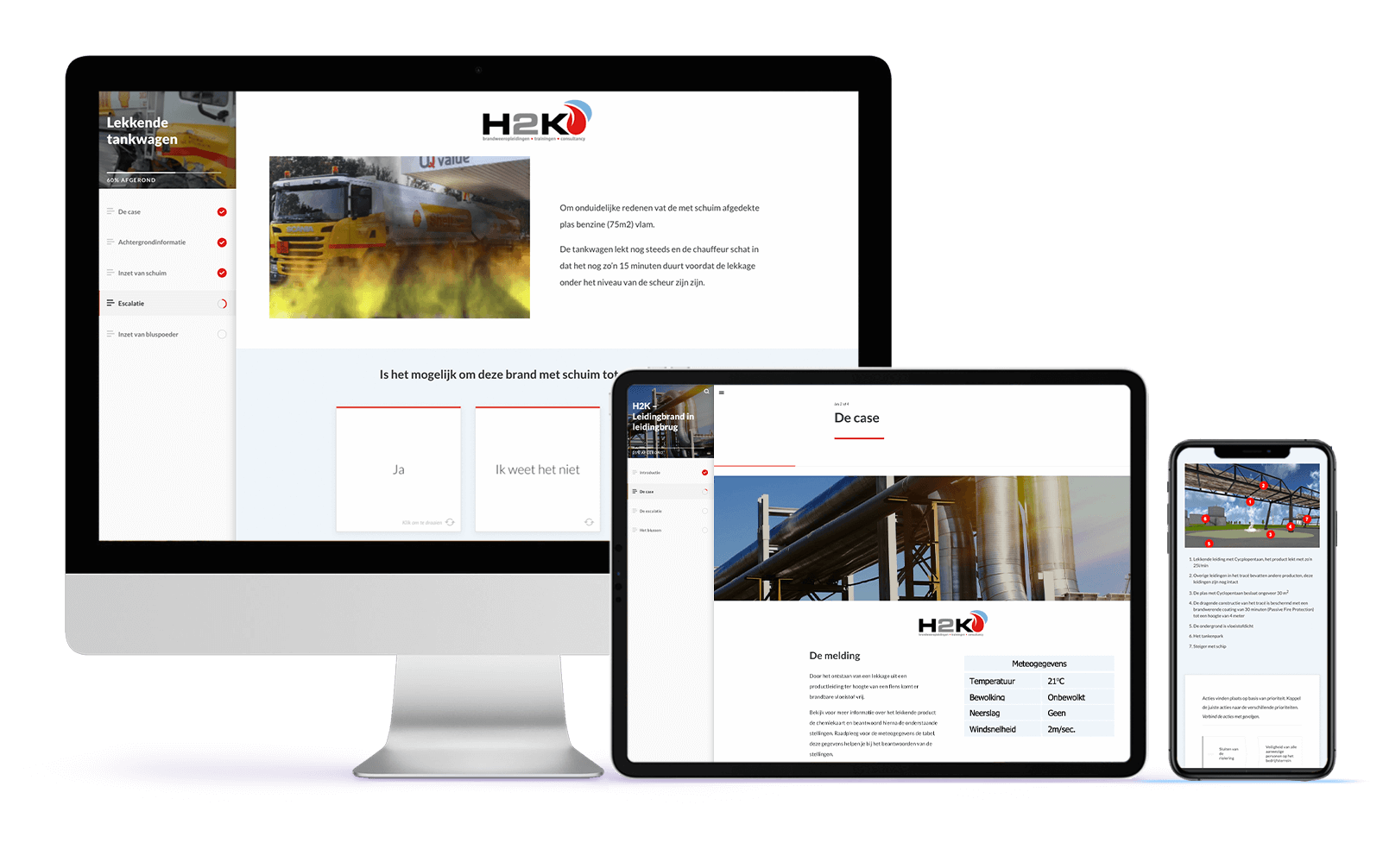 Splintt is a flexible partner for us that can move with the fast-paced changes of our clients. There is also a lot of information at Splintt as well as at H2K the realization that digital education must be varied. From a 30-minute online refresher course to an integrated refresher programme with multiple modules.
Peter de Roos
Senior trainer / consultant H2K
Our e-learning H2K Online makes place- and time-independent education possible. The digital learning platform is used to supplement our industrial firefighter education and training. With the help of the platform, students, both individuals and teams, can follow online lessons, deal with case histories and take knowledge tests.
We use the platform for 'becoming competent' and 'remaining competent'. During training and courses H2K Online often applied as an interactive teaching method, it offers a good change from traditional classroom teaching. For recurrent training, e-learning is an effective tool for refreshing theory and elementary work procedures.
Ronald de Roos
General Manager H2K
Are you looking for a solution to your situation?
Simply schedule a call or Zoom meeting with one of our eLearning experts. We'd love to show you more using a demo!
Or leave your question and we will contact you.