When should you choose eLearning?
and the benefits
Are you curious about when to choose eLearning?
Are you interested in using eLearning or are you searching for your current approach and don't know yet whether you should choose eLearning? Are you planning to transfer knowledge, test skills or increase awareness to a target group? That could mean that you could opt for eLearning.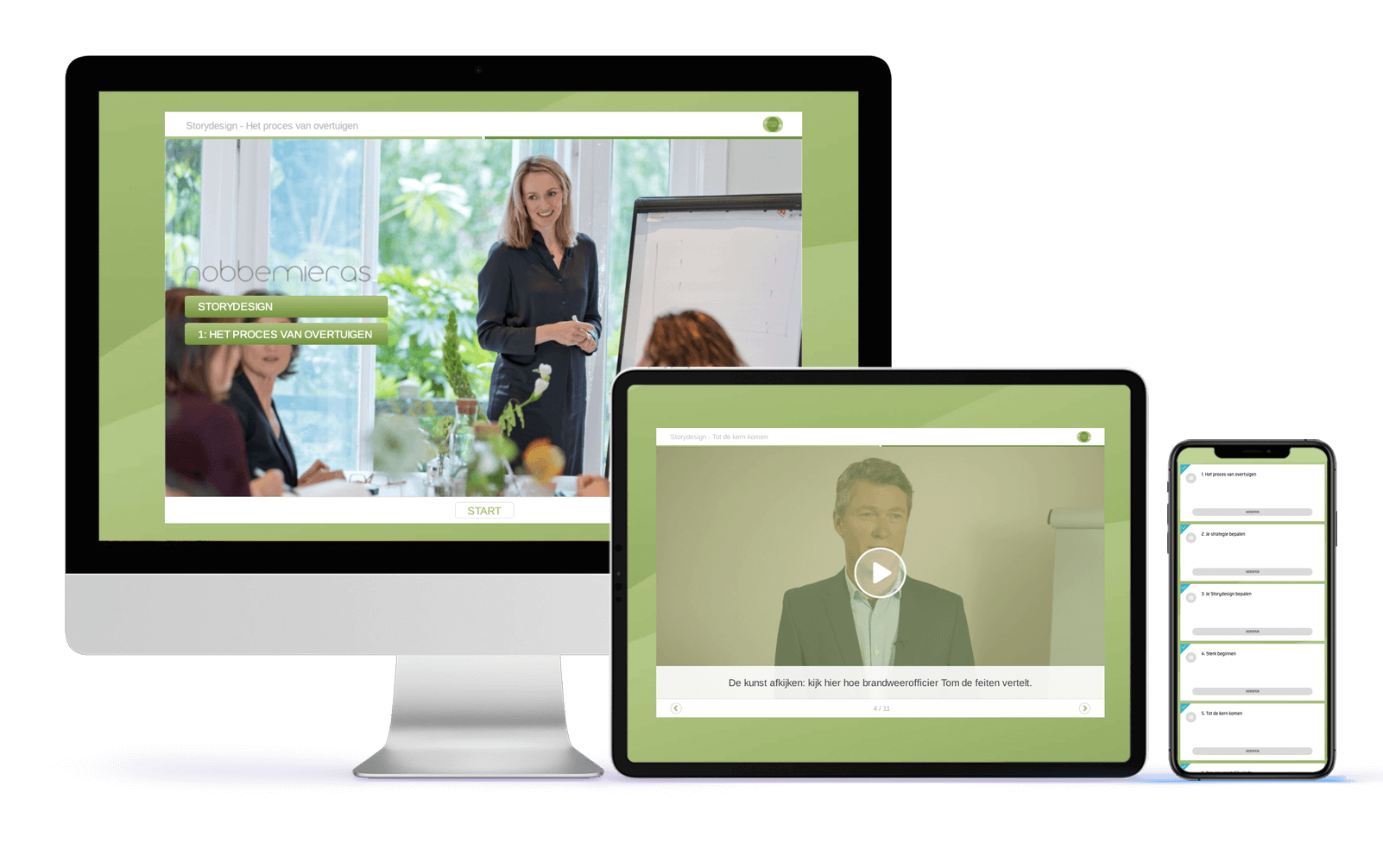 The popularity of eLearning
There is tremendous growth in the eLearning market. In 2015, the eLearning market accounted for 107 billion; by 2025, it is projected to reach 325 billion. This huge growth is due to the many benefits that come with eLearning and these benefits of eLearning are also becoming increasingly relevant. Consider, for example, the following benefits:
Time saving by eLearning for the participant (course participant) because knowledge is offered in a compressed format

Time saving by eLearning for the trainer because he does not have to tell the same thing over and over again, but can focus on going through different situations

A participant (course member) can learn anytime & anywhere and on any device

Uniform information transfer: with eLearning you transfer the desired information in one way

.

Online training can be fun by adding gamification

Progress can be monitored well

eLearning can be used more often (scalable) and is therefore also good for your wallet
When should you choose eLearning?
But apart from popularity: when should you choose eLearning? What are the motivations for doing this and what advantages make it relevant for you and/or your organisation?
So there are plenty of reasons to choose eLearning. One of the main reasons why companies and organisations choose to use eLearning is to save costs. The use of eLearning can save a lot of money, because employees no longer have to go on courses that involve travel and accommodation costs. It also saves time as they no longer have to spend time travelling to the training location. All this is saved with an online learning environment where participants can simply log in from home or the office and follow the course. An additional advantage is that companies can see whether these courses are successfully completed, including a score per participant.
keep up with the times
To keep up with the times you will have to consider whether e-learning is something for your company. As you can see, there are plenty of reasons why companies choose e-learning. Due to the great popularity of eLearning, companies, organizations and educational institutions cannot ignore it anymore. In fact, employees and students expect nothing less than that you make use of eLearning for training, retraining and refresher courses. A digital learning environment makes it easier to teach people something. This applies to schools and universities, but also to companies that want to train their employees or offer a course.
There are plenty of eLearning tools available that companies and organizations can use to get a start in developing eLearning modules. We do recommend to determine in advance which subjects you want to discuss in the eLearning and whether there is sufficient knowledge available internally to use these tools.
Conclusion on when to choose eLearning
The benefits of eLearning are probably clear to you now. And why your organisation should use eLearning.
Now, of course, you don't have to throw all your classroom training overboard. You can also opt for blended learning, combining offline and online. Personal contact creates a better bond and makes it possible to discuss exceptions and specific cases. A good discussion with colleagues, an expert or a trainer can be very enlightening.
If you would like to know more about eLearning, advice on how to use it in your organisation or if you would like to exchange views, please do not hesitate to contact us. We can help on all fronts.
Are you looking for a solution to your situation?